Rocket Metal Works
Barnes, Erickson and Trickel
Together in San Francisco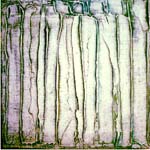 An upcoming exhibition of works by Jim Barnes, Mark Erickson and Bart Trickel, known collectively as "Rocket Metal Works" will be shown in San Francisco. This collaborative show is inspired by the long relationship of the three artists which began a decade ago. Mark Erickson will be showing paintings while Bart Trickel and Jim Barnes will be exhibiting their sculpture.
When Mark Erickson first met Jim Barnes, they were both doing carpentry work in the mid-'80s. Erickson, a painter, was exhibiting in a few small galleries in San Francisco. Barnes was a photographer with an interest in making sculpture. Shortly afterward, Barnes introduced Erickson to sculptor Bart Trickel, who had a workshop in the East Bay. Erickson was impressed. The workshop was a veritable playroom full of tools and machinery. He was also impressed with Trickel's capacity to work with all kinds of materials. He said of Trickel,"If you can think of it, Bart can make it." The three artists formed a kind of mutual admiration society. They shared a love of creative exploration and also a love of music. It was only natural that sooner or later they would collaborate together in making sculpture.
Erickson's career took off in the later part of the decade and he became a full-time painter. He began to incorporate into his shows brightly colored steel sculptures he collaborated on with his friends, Barnes and Trickel. From the beginning, the sculptures were characterized by Barnes' clean efficient sense of design. He would take elements from Erickson's paintings and translate them into three dimensions. Working with Trickel, whose instinctive knowledge of materials can make anything possible, ideas were easily translated into forms. These collaborative efforts became known as "Rocket Metal Works." The first exhibition specifically dedicated to the three of them took place in Seattle in 1998.
Jim Barnes, who resides in Seattle, was born in Wilmington, Delaware. His father had an avid interest in art and would take his young son to exhibitions in Philadelphia and Washington's National Gallery of Art. Barnes loves working with steel. He learned welding from Trickel and has been devoted to it ever since. "In order to create something you have to play with fire". Barnes enjoys the process. His designs are synthesized to their essential elements. Like Calder, the space in between is generous and satisfying and yet, the sculptures tend to also have a kind of Matisse flavor. Many are reminiscent of Matisse's cut out pieces in their elemental simplicity.
Bart Trickel came to California from Wisconsin. His father worked on antique clocks and his grandfather owned a gas station. Bart played with the junk left over from their work and the passion to build was born. Trickel is fascinated with all kinds of materials. He loves glass and steel and copper and bronze. Often his sculptures have a sense of subtle motion, belying the actual strength and weight of their construction. Trickel has distinguished himself in the movie industry working for Tippett Studio making special effects for such blockbusters as Robocop, Jurassic Park and Starship Troopers.
Besides their passion for making things, the three artists share an intense work ethic. None of them has the capacity for sitting still for very long. They are endlessly working out ideas and sketching and forging and welding and painting. While the San Francisco exhibition features individual works by each artist, one can see the dynamics of the creative coalition. One piece in the exhibition is an actual three- way collaboration called "If Dogs Ran Free". The piece was inspired by an earlier work. Barnes created templates that were executed by Trickel and painted by Erickson. Another collaboration is entitled "Blue Luna", a standing female figure worked on together by Erickson and Trickel which ties in to other individual pieces in the show. Ideas are bounced off of one another and there is an atmosphere of support and appreciation of each other's efforts. Yet there is no sameness in the work. Each has its own distinct signature style and approach. It is that variation of vision that makes art endlessly fascinating.

by Donna Seager